Accurate, reliable, cost-effective compliant analytical testing and method development services to support pharmaceutical products along every step from early-stage development to commercial manufacturing.
Proven Expertise and Modern Technology
Analytical support of pharmaceutical products demands knowledgeable experts coupled with modern analytical instrumentation. CAL is privileged to have exceptionally well trained and experienced pharmaceutical professional chemists and microbiologists. This in-house expertise allows for rapid method development in a logical and rationally planned approach that yields robust accurate and precise methods.
Each year the analytical instruments improve in terms of design and limits of detection and quantification. CAL's robust investment program into modern technologies and analytical instrumentation assures not only a broad service profile but a refinement of existing technologies to assure accuracy and precision of the assays we execute.
Our expert teams coupled with our investments in analytical instrumentation are predicated on the execution of our laboratory services in a fully GMP compliant manner. CAL views the relationship with our clients as a true partnership.
Product types:
Product Stages:
Raw materials
In-process products
Finished products
Dosage forms:
Solids
semi-solids
liquids ((Single Phases Solutions, Suspensions)
Testing Capabilities
Characterization of active pharmaceutical ingredients (APIs), excipients and drug intermediates and products
Quantification of impurities in raw materials and active pharmaceutical ingredients (Thermogravimetric Analysis (TGA))
Non-destructive testing (Near-infrared Spectroscopy (NIR))
Formulation evaluation/compatibility studies
Impurity analysis and profiling
Dissolution profiling
Residual solvents analysis in API and drug products
Heavy metals
Microbiological analyses
Microbial limits testing
Preservative efficacy and anti-microbial effective studies
Zone inhibition studies
Degradation studies and stability services (ICH-compliant stability chambers: Ambient, Intermediate and Accelerated conditions)
Photostability studies
Stability indicating method development, method transfer and validation studies
Stability protocol preparation, analysis, and monitoring
Assigning shelf-life
Cleaning validation
Analytical Methods: Development, Transfer and Validation
The subject matter experts at CAL thrive when challenged to solve difficult analytical challenges. For over 35 years, we have played an integral role in pharmaceutical product analysis by creating new reliable, robust, fit-for-purpose analytical methods or improving existing methods that can reduce overall product analysis time and bring cost efficiency. Our responsive, and flexible approach applies to method development, transfer, and validation whether it is related to raw materials, in-process products, or finished products. The responsive and collaborative approach is especially beneficial when working with rare, highly expensive impurities when several parties outside of the sponsoring client are involved.
Method parameters (based on ICH guidelines):
Specificity
Limits of detection and quantification
Linearity
Accuracy
Precision
Standard and Solution stability
Degradation studies (acid/base/pH/heat and light)
We also validate methods developed by other laboratories and can perform gap analysis of previously validated methods to ensure they meet current guidelines. Our rapid method development expertise can help to expedite the most appropriate method for your product.
Licenses
Health Canada

Drug Establishment License
Controlled Substances
Precursor Class A

FDA Registered and inspected
TGA Registered
ISO/IEC 17025:2017 accredited
Thermogravimetric Analysis (TGA)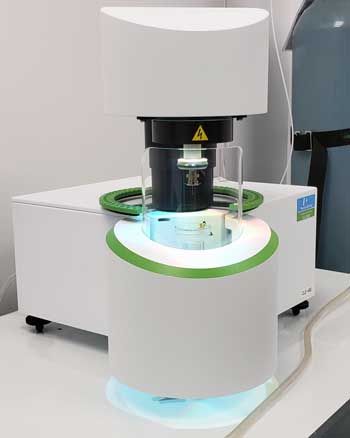 Thermogravimetric Analysis (TGA) is available for quantification of impurities in raw materials and active pharmaceutical ingredients to characterize and verify materials for QA/QC material specification requirements.
Impurity testing is typically a costly but necessary activity as regulations on pharmaceuticals have been lowering limits for impurities over the past several years. In so doing, this has necessitated detection methods to become more sensitive and selective resulting higher testing costs for pharmaceutical companies.
TGA provides a significantly more cost-effective approach as much smaller sample sizes are required to produce highly accurate and reproducible results.
We have developed in-house methods, as well follow compendial or client-provided methods.  We also have deep expertise in developing new methods when no current method exists.
Controlled Substances 
Recent Posts